MediPharm Labs is built on the foundation of a strong executive team, with professionals from complementary industries that include global pharmaceuticals, healthcare, consumer packaged goods, and biotechnology manufacturing. Our company is a recognized leader in the Cannabis services industry, and our science-based team delivers quality and innovation through research, discipline, and forward thinking.
Pat McCutcheon
CEO & Chairman of the Board
Before founding MediPharm Labs, Pat enjoyed a 15-year career in the pharmaceutical industry in top sales roles, successfully launching a wide range of medical products. He most recently worked at Janssen Pharmaceuticals (Johnson & Johnson) where he led the Hospital Division for Renal and Mental Health products. Pat's foresight in creating a business that focuses on advanced cannabis concentrates bodes well for medical research, investors and consumers alike. Pat holds an Honors Bachelor of Science degree in biology from the University of Western Ontario.
Bobby Kwon
Chief Financial Officer
Bobby Kwon brings over 25 years of international experience in the consumer-packaged goods, retail and pharmaceutical industries; holding senior roles in finance, strategic planning, and operations working in Canada, U.S., the Netherlands, and U.K. Most recently, Bobby served as the Senior Vice President of George Weston Ltd. (Weston Group), Canada's largest food and drug retail business. He was a trusted and strategic advisor to Weston Group's owner and Executive Chairman on key activities and transformational transactions including the $12 billion acquisition of Shoppers Drug Mart. Prior to Weston Group, Bobby held a number of senior finance and corporate roles at Unilever including Chief Financial Officer, Canada. During his tenure at Unilever, Bobby co-led enterprise strategic planning across global business units and was an instrumental member closely involved in various corporate development transactions including Unilever's $4 billion acquisition of Alberto Culver, a large global hair and skin products manufacturer, and a partnership between PepsiCo and Lipton Ready to Drink Tea, owned by Unilever. Additionally, Bobby was a core member of "One Unilever", a global transformation initiative focused on unlocking $1 billion in savings. Previously, Bobby was Director of Finance at Janssen-Ortho Inc. partnering with operations and corporate development functions.
Keith Strachan
President & Director
Keith Strachan co-founded MediPharm Labs in 2015, utilizing his consultancy expertise in Public Sector RFP and government contracts, compliance for government licensing and local planning, to break the mold and secure the first Health Canada Licence for cannabis oil production without first being a cultivator. A seasoned entrepreneur, Keith has applied his leadership to building out MediPharm Labs' leading-edge facilities, launching operations and growing its workforce, while also strategically driving business development with the Company's many supply, contract processing and white label partner LPs.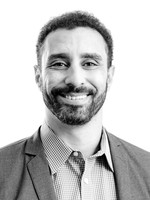 Ahmed Shehata
General Counsel and Head of Corporate Development
Ahmed comes to MediPharm after having spent over a decade working in the Bay Street offices of the Business Law Group of one of the world's largest law firms and in the Corporate Law Group of a global leader in Canadian business law. His legal practice consisted of securities law, mergers & acquisitions, corporate finance and general corporate and commercial law. Ahmed has acted as external counsel for numerous cannabis companies and has been involved in a legal advisory role in the going public transactions of cannabis companies as well as companies in several other industries. He holds a Juris Doctor Law Degree from Osgoode Hall Law School and a Bachelor of Commerce Honours Degree with First Class Honours from the Queen's University School of Business.
Kirk Binns
Executive Vice President, Global Accounts
A Molecular Biologist by training, Kirk Binns was a founding shareholder of MediPharm Labs. A serial entrepreneur, Kirk has spent most of his career in the North American deregulated energy markets, leading market expansions, client acquisitions and managed up to 100 reports across multiple markets. Over the last 12 years, he established and ran a multinational energy sales organization generating 7-figures annually, while also contributing to MediPharm Labs' start-up and operations. Kirk takes on the role of EVP, Global Accounts to help MediPharm Labs realize its vision as the trusted global leader in cannabinoid-based derivatives.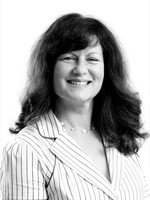 Sybil Taylor
Chief Marketing Officer
A 25-year marketing veteran, Sybil has brought premium consumer brands to life by developing innovative customer-focused marketing strategies. She launched Steam Whistle Pilsner in 2000 as a pioneering upstart and helped it grow to the largest craft beer brand in Canada. As CMO at Nuuvera Canada, Sybil was a senior contributor to this Canadian Cannabis start-up via strategic planning and brand development for medical and recreational brands. Sybil has been part of senior teams in two of Canada's Best Managed Companies, and through CSR initiatives, she has brought numerous awards and public profile to her managed brands.
Jason Nalewany
Vice President, Finance
Over his 12-year career, Jason has provided financial expertise to various public entities in capital market strategies, M&A advisory, valuation, financial forecasting and financial due diligence. Most recently, Jason held senior finance positions at Aurora Cannabis Inc., playing a key role in their merger with MedReleaf Corp. He previously worked in the strategy and corporate development group at Methanex Corporation, held roles at FTI Consulting Inc., and MNP LLP, in transaction advisory capacities, and held positions in the audit and assurance practice at PricewaterhouseCoopers LLP, Canada. Mr. Nalewany is a Canadian Chartered Professional Accountant (CPA, CA) and holds a Bachelor of Commerce degree from the University of Victoria.
Mike Perron
Vice President, Business Development
Prior to joining MediPharm Labs, Mike has spent over 10 years in professional services focused in Management Consulting, Enterprise Risk, and Transaction Advisory Services, working in the US and Canada. He has served as national lead supporting cannabis industry Licensed Producers and ancillary cannabis businesses. Mike has attained the Certified Public Accountant (CPA) designation and obtained his Masters of Accounting (MAcc) from USC. In addition, Michael is an alumnus of the Governor Generals Canadian Leadership Conference (GGCLC).
Brett Moon
Vice President, Sales
Brett joins MediPharm Labs with over a decade of sales, marketing and CPG experience. Previously Brett was Vice President at Mosaic Sales Solutions – Canada's largest sales and marketing agency. At Mosaic, Brett led accounts such as Anheuser Busch InBev, Nike, and Nestle. Recently Brett has led sales in the cannabis industry, working and consulting for some of the largest LPs in Canada. As VP of Sales at MediPharm Labs, Brett will be accountable for maximizing the sales and distribution of MediPharm's best-in-class vape, and other innovative cannabis products.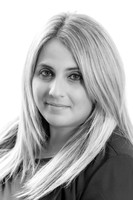 Laura Lepore
Vice President, Investor Relations & Communications
Laura Lepore brings more than 16 years of award-winning Investor Relations, Communications and Capital Markets experience across Financial, Industrial and Mining sectors. Laura was most recently AVP, Investor Relations at Home Capital Group Inc. and led IR through two significant transactions and a governance renewal. During her tenure with TD Bank Financial Group she held various roles in IR and Corporate Banking. Previously Laura was Director of IR for Newmarket Gold and Crocodile Gold. She earned her Bachelor of Arts, Economics from York University and is currently a Board Director for the Canadian Investor Relations Institute, Ontario Chapter.
Dr. Chris Talpas
Vice President, Quality and Scientific Affairs
Chris has 24 years of experience in the bio-pharmaceutical field, having been involved in all aspects of development from bench-top to commercial manufacture. After completing his BSc. and Doctorate degrees in Biochemistry, he joined Hemosol as a research scientist and then transitioned into the Process Development group where he worked on scaling up the manufacturing process to support clinical manufacturing of a haemoglobin-based blood substitute. Thereafter, he managed the clinical manufacturing plant. An expert in Chromatography, Dr. Talpas comes to MediPharm with a wealth of expertise in the qualification and validation of complex processes and equipment, as well as the development and maintenance of quality systems, having just served as the Director of Manufacturing Sciences at Therapure Biopharma.
Nigel Dewsbury
Head of Quality
A Certified Pharmaceutical GMP Professional (CPGP) with over 18 years of experience in the pharmaceutical and medical device industry, Nigel Dewsbury brings considerable expertise in quality systems and management to the MediPharm Labs team. Prior to joining MediPharm Labs, Nigel held senior quality assurance roles with a variety of organizations, including Baxter Healthcare, Derma Sciences Inc. and Nuvo Research Inc. He boasts a successful record of hosting regulatory authorities, including Health Canada and the U.S. Food and Drug Administration, as well as working with third-party auditors and ISO registrars. Nigel holds a Bachelor of Science degree in Chemistry from the University of Western Ontario and a Certified Six Sigma Green Belt designation from McGill University.
Dr. Tait Gale
Manager of Research and Development
Dr. Tait Gale is a scientist with experience in natural product and infectious disease research. Before joining the team at MediPharm Labs, Dr. Gale was the Director of Research and Development at Green Relief where he led a team of staff-scientists focused on process optimization and product development. He was responsible for bringing industry-leading products to market using chromatography and honed his craft in minor cannabinoid isolation. Dr. Gale completed a PhD in Biochemistry from McMaster University, one of Canada's premier drug discovery laboratories, and is the author of many publications in the fields of biochemistry, chemistry, and microbiology, including work on the antibiotic potential of cannabis.
Ryan Merkley
Vice President, Supply Chain
Ryan brings to MediPharm Labs 15 years of experience as a Supply Chain Operations leader, most recently as Director of Supply Chain & Integration for PepsiCo Beverages Canada. Over his career, Ryan has developed annual Operating Plans, led Demand Planning for 32 plant and warehouse locations, managed Supply Planning for 450+ SKU's including managing contract manufacturing, as well as headed up Integration for Canadian operations which included optimized supply chain, and integration via US relations. Ryan's key deliverables were in maximizing efficiencies in terms of fill rates and productivity, delivery savings through supply contract negotiations and reducing waste, and leading international teams to conceive and commercialize innovation. Ryan has earned a PepsiCo global Chairman's Award and a UXL Award for his strategic initiatives. He earned his Honours B. Comm from Laurentian University.
Dr. Ina Dubinsky
Lead Scientist – Secondary Processing
Dr. Dubinsky recently held the position of Research and Development Scientist at ARA – Avanti Rx Analytics Inc. where she conducted analytical lab-testing and method development of tests for cannabis oil, extract, plant and intermediate products within Health Canada, Food and Drug Administration and Good Manufacturing Practices regulatory frameworks. Her experience includes research, development and performance of different extraction processes for cannabis and hemp, as well as isolation and purification of cannabinoids by vacuum distillation, vacuum filtration and Normal and RF column chromatography. Dr. Dubinsky is a Postdoctoral Fellow in Biochemistry from the University of Toronto, and she earned her PhD in Inorganic Chemistry from Tel Aviv University.
Paul Hamelin
Vice President, Security and Information Technology
Paul has a 35-year career in policing and is dedicated to serving fellow citizens and advancing policing as a profession. Paul is currently the Executive Director of the Ontario Police Technology Information Co-operative and this career focus on cyber crime prevention puts MediPharm Labs in good stead as he applies his specialized discipline and rigour to the security requirements of the cannabis industry. He has successfully built bridges between community groups and the Ontario government and is the former president of the Ontario Association of Chiefs of Police.
Warren Everitt
Chief Executive Officer, Asia Pacific
Warren brings a wealth of senior leadership to MediPharm Labs Australia, having run both his own small businesses as well as achieved success in the Asia Pacific for a leading international digital marketing agency. Warren completed an Honours Bachelor Computer Science (programming) and was on the leading edge of web development and digital marketing, working first in Canada and the UK before building the Asia Pacific division of a large enterprise marketing agency, MarketOne. Over 8 years, Warren opened four offices, adding 200+ staff in Melbourne, Singapore, Bangalore and Tokyo. He boasts a 15-year history in sales and marketing, consulting to some of the biggest companies in the world.
Dr. Jake Golding
Director of Operations, Asia Pacific
Jake has nearly 20 years of experience in the bio-tech, medical device and pharmaceutical fields, in the development and commercialisation of a variety of products. After completing his BSc. and Doctorate degrees in Chemistry, he joined the Commonwealth Scientific and Industrial Research Organisation as a post-doctoral fellow. He then transitioned into private industry joining Southern Dental International in product development before moving to Boron Molecular taking up Operational and Quality Manager positions. With a wide range of experience in process and production chemistry, Dr. Golding comes to MediPharm Labs with a wealth of expertise in the registration, qualification and validation of processes, facilities and equipment, as well as the development and maintenance of quality systems. Jake most recently served as the Head of Quality at Medical Developments Australia.
Anuja Siwakoti
Director of Global Regulatory and Scientific Affairs
Anuja has 8 years of experience in cannabis research, academia and work in the regulated cannabis industry in Canada. Most recently, Anuja worked as a Senior Quality/Regulatory Consultant at Cannabis Compliance Inc., global cannabis consulting firm. In that role, she provided quality and regulatory consulting services to over 50 clients, assisting with operational gap assessment and GPP/GMP audits, guiding close to one dozen clients with licence receipt from Health Canada, and navigating through the cannabis regulatory jurisdiction of multiple countries/US states. Previously Anuja worked for 2.5 years at Aphria Inc., one of Canada's leading LPs in a senior role in the Quality Department. She has spoken at numerous scientific conferences and published in peer-reviewed scientific journals. Anuja holds a Master's degree in Medical Sciences Program from McMaster University.
Lorna Willner
Director of Human Resources
Lorna has a 25-year career as a Human Resources executive working in both the UK and Canada, with a forward-thinking perspective. For the last nine years she headed up the Human Resources department at Steam Whistle Brewing, developing and implementing best practices to build high performing teams aligned to company objectives and values. Lorna is an approachable, collaborative leader with expertise in recruitment and on-boarding of new talent, and development of employees and managers through trusted mentoring and coaching. Lorna was part of the senior leadership team at Steam Whistle Brewing which won many awards, including 9-years recognition as one of Canada's Best Managed Companies. Lorna completed the Post Graduate Human Resource Management program from Ryerson University.
Saravan Subramaniam
Senior Director, Project Management Office and Facilities
Saravan has worked in the Pharmaceutical Industry for over 12 years in roles focusing on Engineering and Technical Services. He has led projects which included new product launches in both Manufacturing and Commercial environments, and the design of a $30M High Containment Facility for the manufacturing of Soft Gel Capsules. Previously, he was a Project Manager in the Automotive Sector. Saravan is an authentic leader of successful teams by modelling a collaborative and hands on approach, providing opportunities for shared leadership, communicating effectively and motivating teams towards shared goals. Saravan obtained his bachelor's degree in Electrical Engineering at the University of Waterloo, and recently completed his Executive MBA at the Rotman School of Management, University of Toronto.
Daniel Everall
Director of Legal
Daniel Everall joins MediPharm Labs after 7 years at Aird & Berlis LLP, where he summered and articled before becoming an associate in the firm's Capital Markets Group, a founding member of its Cannabis Group and a Director of its Startups Team. There he focused on securities law, M&A, cannabis regulatory compliance and general corporate and commercial matters. He also frequently acted as counsel to cannabis and non-cannabis startups seeking to scale-up and commercialize their products. Daniel played an integral role in advising MediPharm Labs Inc. on their reverse take-over of POCML 4 Inc. (and TSX-V listing) and $22.3 million private placement. He holds a Juris Doctor from University of Toronto's Faculty of Law and a Bachelor of Commerce (with distinction) from the University of Alberta.
Darren Parker
Director, Health and Safety
Darren Parker brings over a decade of experience in health and safety management to the MediPharm Labs team. Prior to entering the cannabis industry, Darren worked as a contracted Senior Health and Safety Inspector for Enbridge. In this role, he was responsible for conducting worksite inspections, documentation audits, incident investigations, and contractor evaluations, while ensuring that provincial and federal safety requirements were met. Darren's expertise also extends to the environmental health and safety sector, where he became versed in developing Safe Work Practices and Procedures, Emergency Response Plans, Job Hazard Assessments, and Project Execution Plans. He has worked closely with provincial health and safety organizations to successfully deliver programs across multiple locations.
Bill Gordon
Director of Information Technology
Bill Gordon brings over 26 years in information technology and governance to the MediPharm Labs team. He previously held positions in the public sector, working for Canadian municipal and provincial law enforcement organizations in various I&IT roles focused on computer forensics, technical investigations, data centres, public safety applications, and IT security. Bill is a founding Director at MediPharm Labs, responsible for the design and implementation of the company's data and network security systems in Canada and Australia. He leads our team of highly competent IT professionals, supporting our GMP infrastructure, manufacturing and enterprise applications. An active member of his community, Bill is an elected Municipal Councillor for the Town of Midland for the 2018-2022 term.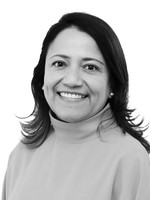 Scarlett Gonzalez
Director of New Product Commercialization
With 17 years of experience in capital project management and a working knowledge of cGMP regulations, Scarlett Gonzalez brings a wealth of expertise to her role at MediPharm Labs. Prior to joining our team, Scarlett worked for Canada's largest generic pharmaceutical company Apotex Inc. where she was responsible for overseeing the Engineering Services Department as the Associate Director of Capital Engineering. While at Apotex, she was awarded a Global Certificate of Achievement with outstanding performance in operational efficiency, cost management and future growth. Scarlett holds a Bachelor of Applied Science and Engineering degree in Chemical Engineering from the University of Toronto and is a Professional Engineer of Ontario (P. Eng.).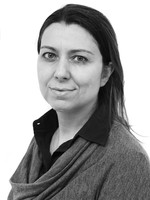 Olga Utkutug
Director of Finance
Olga Utkutug is a financial expert with over 21 years of experience in International Financial Reporting Standards (IFRS) and accounting standards. Her expertise includes managing accounting and financial control functions and establishing financial strategies for the long-term profitable growth of organizations. Prior to joining the MediPharm Labs team, Olga was a Financial Planning and Analysis Leader for multinational technology conglomerate Cisco and a Commercial Finance Manager for GE Healthcare. With global experience spanning Canada, Western Asia and Southeastern Europe, Olga is well-versed in IFRS rules and regulations to develop, plan and execute financial plans and budgets. She possesses a Master of Business Administration degree from Koç University in Istanbul.